Providing Help and Hope in Times of Need.
Call Priority Veteran Toll-Free at 1-866-460-3827.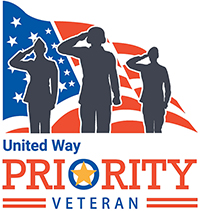 Priority Veteran is a service-coordination program for homeless veterans and their families to help them secure permanent, sustainable housing. In addition, case managers help veterans create their own Housing Stability Plan, as well as locate and gain access to resources such as medical or mental health services, veteran's benefits enrollment, job-search assistance, financial coaching and more. We serve all counties in Alabama, with the exception of Baldwin and Mobile.
Our goal at Priority Veteran is to ensure housing stability for homeless veterans and their families through case management and supportive services. We use the "Housing First" model, which is aimed at helping you obtain housing quickly so that your basic needs are met. At that point, we address other needs you may have, such as getting a job, budgeting or obtaining help with substance-abuse. Click here to read some real-life stories from veterans we have assisted.
Following are some questions and answers to help you better understand the range of our services and the general qualifications for receiving assistance from the Priority Veteran program. To submit an inquiry concerning eligibility for services, click here.
What Does "Homeless" Mean?
To qualify for assistance from Priority Veteran, veterans (and their immediate families) do not have fixed, regular and adequate nighttime shelter or are in peril of losing nighttime shelter within a short period of time.
What Are Some of the Services Provided by Priority Veteran?
Priority Veteran offers help to qualifying low-income, homeless or at-risk veteran families in the following ways.
Obtaining permanent, stable housing
Obtaining VA benefits
Obtaining federal and/or state benefits
Accessing community-based resources
Obtaining/completing employment training
Obtaining employment
Advocacy in landlord/tenant disputes
Advocacy in rent/utility arrearages
Temporary financial assistance

Deposits
Rent assistance
Moving costs
General housing supplies
Utility assistance
Services are free of charge to qualifying veterans. If temporary financial assistance is requested, however, you will be asked to pay a portion of those expenses based on your income and circumstances.
Who may qualify for Priority Veteran Services*?
To be eligible for Priority Veteran services, you must meet the following qualifications.
You must be a veteran of U.S. military service. If in the National Guard or Reserves, you must have had federal deployment orders or be VA-eligible.
You must have separated from the military under any condition other than "dishonorable."
You and your family must be literally homeless or at immediate risk of becoming homeless.
Your household income cannot exceed 50% of the median income for the area in which you live.
You must not be presently enrolled with another Supportive Services for Veterans Families (SSVF) provider.
*Other requirements as defined by the U.S. Department of Veterans Affairs will also be considered in order to determine eligibility for services.
What Areas of Alabama Does Priority Veteran Serve?
We serve all counties in Alabama, with the exception of Baldwin and Mobile.
What is Case Management?
Case management is a collaboration between you and your case manager to identify your needs and then create a plan to answer those needs. The process involves identifying local resources, providing referrals, helping you learn certain skills and monitoring your progress. Priority Veteran case management is primarily focused on working with you to achieve and maintain stable housing.
You and your Priority Veteran case manager will identify your goals and create a plan to help you achieve them. Your case manager will meet with you regularly to partner with you toward reaching your goals. In most cases, our services are provided for about three months; but cases can be reassessed after two months to determine the need for an extension of services.
Can veterans get financial assistance from Priority Veteran?
Priority Veteran can assist with the cost of some service(s) in the Housing Stability Plan if your inability to pay for those specific services would again result in homelessness. This decision is made on a case-by-case basis. If temporary financial assistance is requested, you will be asked to pay a portion of those expenses based on your income and circumstances.
Can families seek help on behalf of a veteran?
Yes, services are for veterans and their families, but veterans must voluntarily agree to a Housing Stability Plan. Families can call Priority Veteran and encourage veterans to enroll.
Call Toll-Free 1-866-460-3827