It's not about us. It's all about you.
Call Priority Veteran Toll-Free at 1-866-460-3827.
P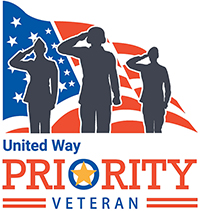 riority Veteran, in partnership with United Way of Central Alabama (UWCA), is an assistance program created through a grant from the U.S. Department of Veterans Affairs (VA) and Supportive Services for Veteran Families (SSVF). The program is focused on serving U.S. military veterans and their families who are homeless or at immediate risk of becoming homeless. We serve all counties in Alabama, with the exception of Baldwin and Mobile, as well as Muscogee and Troup counties in Georgia.
Priority Veteran provides veterans with intensive one-on-one assistance to locate stable, permanent housing and links them to resources that help them gain the knowledge and skills necessary to remain financially stable.
Case managers help veterans with a wide range of needs to help them get their lives back in order. These include:
Locating and securing safe, affordable, stable housing
Creating a Housing Stability Plan
Accessing medical or mental health services
Enrolling for veterans' benefits
Job-search assistance
Financial coaching
We Don't Just Wait for Veterans to Come to Us

.
We know that there are more than 350,000 veterans residing in Alabama and, unfortunately, a certain number of those have fallen on hard times for a wide variety of reasons. We also know that many are unaware of our services, or simply too proud to ask for help. So Priority Veteran conducts active community outreach in various communities. We spread the word about our program by talking to the media, shelters, church groups, civic organizations and even some former clients who might know others in need of help. We're on a mission to reach as many homeless veterans as possible, and offer them a helping hand. And to do that, we'll leave no stone unturned.
Anyone Can Help!
As homeless veterans move into their new housing, they need basic necessities. Your financial contribution of $10, $20, $50 or more will help us purchase the most basic household supplies for veterans and their families.
How to Give:
Click the DONATE button at the top of this page to make a secure online contribution.

Hold a 

Priority Veteran collection drive

 for an assortment of NEW household items and supplies to meet basic needs. Please

contact us

for a list of specific items needed.
Call Toll-Free 1-866-460-3827
Priority Veteran is accredited by the Commission on Accreditation of Rehabilitation Facilities for its Rapid Rehousing and Homelessness Prevention Program.