Find Out If We Can Help.
Call Priority Veteran toll-free at 1-866-460-3827.
Are you or someone you know a U.S. military veteran in need of help with housing? Priority Veteran may be able to help. We serve all counties in Alabama, with the exception of Baldwin and Mobile, as well as Muscogee and Troup counties in Georgia. To qualify for Priority Veteran services, you should meet the following requirements.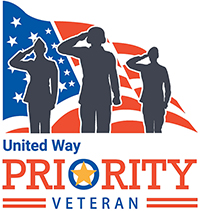 You must be a veteran of U.S. military service. If in the National Guard or Reserves, you must have had federal deployment orders or be VA-eligible.
You must have separated from the military under any condition other than "dishonorable."
You and your family must be literally homeless or at immediate risk of becoming homeless.
Your household income cannot exceed 50% of the median income for the area in which you live.
You must not be presently enrolled with another Supportive Services for Veterans Families (SSVF) provider.
*Other requirements as defined by the U.S. Department of Veterans Affairs will also be considered in order to determine eligibility for services.
To inquire about services, click the button below to fill out and submit a simple form. We'll follow up with some questions to see if you qualify for assistance. Or to speak to someone even sooner, call 1-866-460-3827.